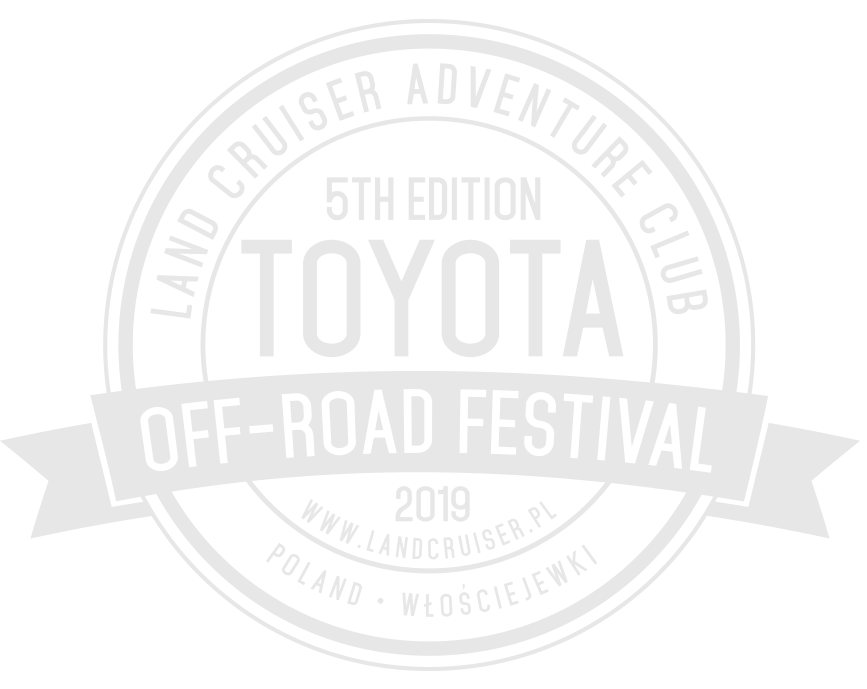 JUNE 14-16, 2019
TOYOTA OFF-ROAD FESTIVAL
For the fifth time we invite you to the most beautiful places in Wielkopolska at the Toyota Off-Road Festival. We have prepared many activities: interesting routes by road-books, cycling tours, kayaking, bonfires, training on the off-road track, expo zone, zone for children, shows and lectures. Join us with your family and friends.
Do you have a question?
If you have any questions about the Festival, please visit the Club Forum on Facebook.
Toyota Off-Road Festival is an outdoor event for owners and drivers of 4x4 Toyotas (Land Cruiser, Hilux, RAV4 and other). See the PROGRAM › (ater 10 may) to find out of all the attractions.
You may choose to camp with us or to use one of a few hotels or B&B's nearby. You can also join us just for one day. Either way please take a minute to REGISTER ›
Organization: 
LAND CRUISER ADVENTURE CLUB
Commanders: 
Michał Horodeński  |  Romek Wasik  
|  Paweł Jagodziński
The meeting spot is the Autodrom 4x4 in Wlosciejewki. You need to be REGISTERED › to get in.
GPS: N52°02'03" E17°11'38"
Autodrom 4X4 Włosciejewki 22
63-130 Ksiaz Wielkopolski
DRIVING DIRECTIONS >
Facilities:
exhibition area
campsite (for over 100 cars & tents)
dining area
open air cinema
4x4 training route
parking lot (for over 100 cars)
Where to stay overnight?
We have two offers for you::
• the Autodrom4x4 camp site – only 10 PLN per person per night
• a hotel or a B&B nearby – the list of some friendly spots:
FOR FESTIVAL & EXPEDITION
The fifth edition of our Festival deserves a special setting so we have prepared for you special T-shirts, which you can buy online. You can choose the colours of the T-shirts during the purchase, those that are visible only as a suggestion.
OUR BASE:
GPS:  N52°02'03"
E17°11'38"
Autodrom 4X4 Wlosciejewki 22
63-130 Ksiaz Wielkopolski
DOJAZD >